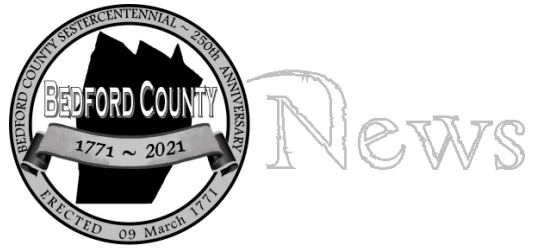 News Item ~ Update
A Request List is being compiled of individuals who would like to purchase a copy of the book, "Bedford County, Pennsylvania ~ Two and One-Half Centuries in the Making" if a second edition is published. For information, click on this link:
Book
News Item ~ Update
Sestercentennial Banquet has been cancelled due to lack of interest.
News Item ~ Update
Grand Opening Ceremony Video
The ceremony that was held on Saturday, 1 May 2021 at the Court House courtyard was recorded by Kellie Goodman Shaffer, President/CEO of the Bedford County Chamber. The video was uploaded to YouTube and can be viewed here.
News Item ~ Update
Grand Opening Ceremony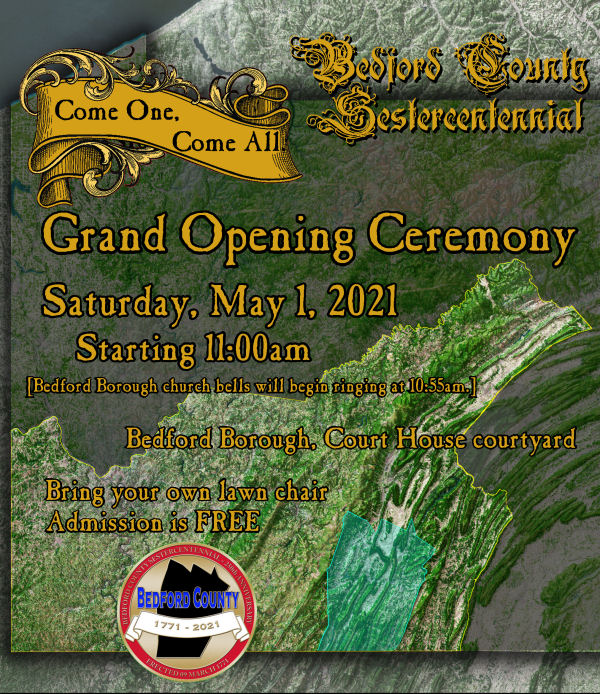 The ceremony was held on Saturday, 1 May 2021 at the Court House courtyard and went extremely well. The weather was beautiful and the program went off without any problems. These photos [taken by Mary Ann Mock] show some of the participants. The photo of four men includes myself, Larry Smith (program organizer and Chair of the Sestercentennial Celebrations Committee), William Roy Mock (historian), Barry Dallara (Bedford County Commissioner) and Jesse Topper (Pennsylvania State Representative). The rest of the photos show myself, Commissioner Dallara, Representative Topper, Pennsylvania State Representative Carl W. Metzgar, William Roy Mock, Judge Thomas S. Ling, Pastor Martin Wickens, Randy Hillegass (Bedford County Historical Society President), Revolutionary War Re-enactors Terry Tallion and Roy Phillips, and the Flute Quartet (Ellen Espenshade, Shelby Kaiser, Hope Kauffman and Robyn McMakin). If you did not come to the event, it's a shame because you missed a memorable ceremony honoring the 250th Anniversary of Bedford County.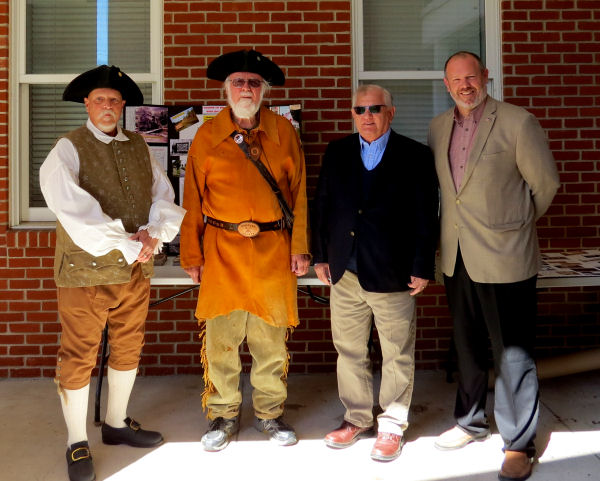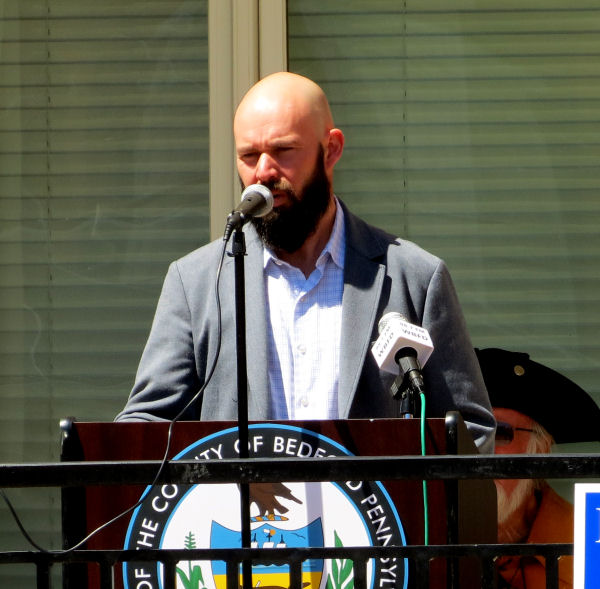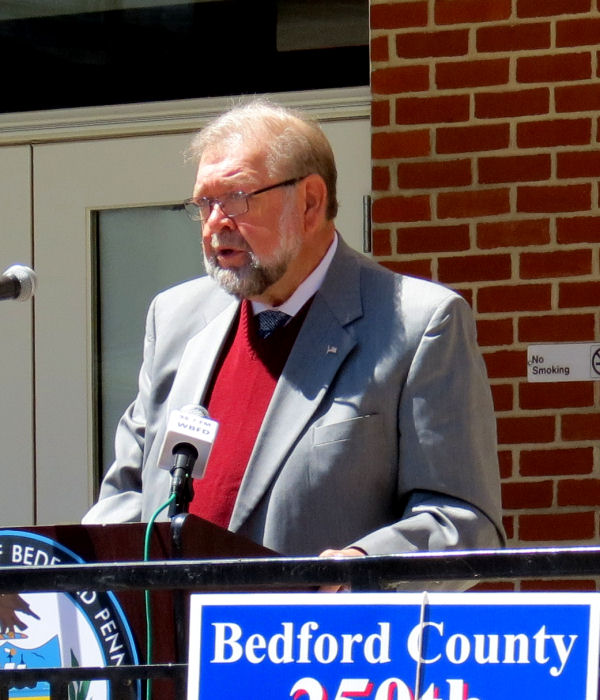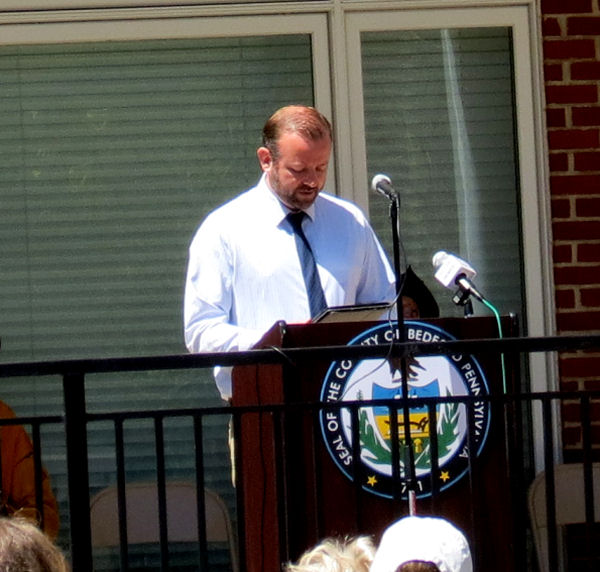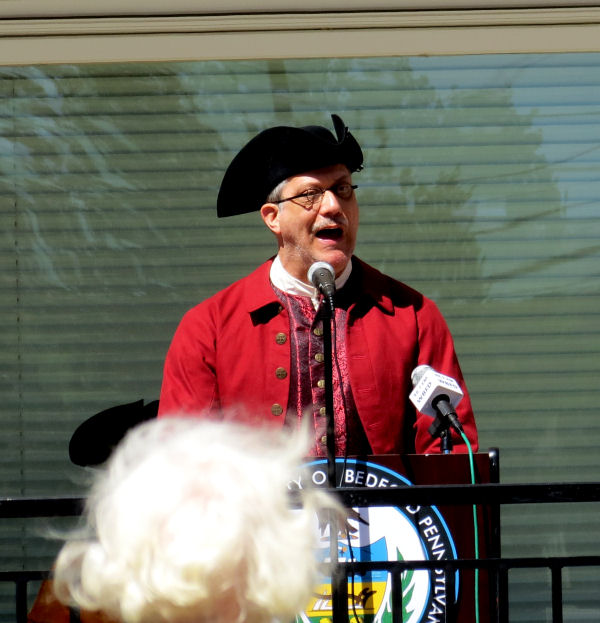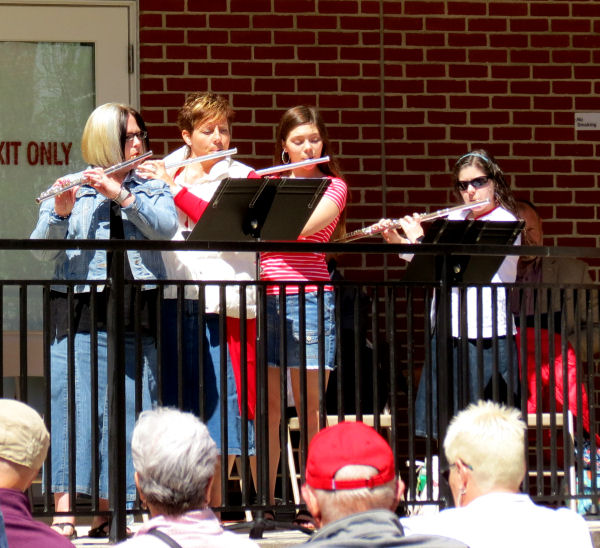 News Item ~ Update
Bedford County Townships 1771 map
Offered for sale ~ A map of the County of Bedford divided into townships at the time that it was erected out of Cumberland County in 1771. Printed in full color on 11" x 17" glossy paper. Topographic details derived from a satellite photo courtesy of outlookmaps.com . Township boundaries determined by the descriptions of the townships contained in the Act erecting Bedford County compared to early maps. All townships which comprised Bedford County in 1771 are included: Aire formed in 1754; Barree, Bedford, Colerain, Cumberland and Dublin formed in 1767; and Armstrong, Brothers Valley, Fairfield, Hempfield, Mount Pleasant, Pitt, Ross Straver, Spring Hill, Tullileague and Tyrone formed in 1771. Copies of this map are available for purchase at $10 at the Bedford County Historical Society.
News Item ~ Update
Bedford County's Sestercentennial Kick-Off Ceremony
On Tuesday, 9 March 2021, the celebration of the Bedford County Sestercentennial was started with the 'Kick-Off' Ceremony. The weather was beautiful and there was a small, but nice turnout of interested residents. The Anniversary Flame was lit by students from Cody Buterbaugh's Bedford Middle School Industrial Arts classes (they had built the Flame from granite plates donated by BC Stone, wood donated by Buterbaugh Kitchen Center and the 'flameless' flame unit donated by William Roy Mock in loving memory of his wife Mary Alice (Hall) Mock. Speeches were given by Larry D. Smith, the honorable Judge Thomas S. Ling and the Reverend Martin Wickens.
The photos below (provided by local photographer, John Soulnier) show (1.) The speakers assembled on the east portico of the 1829 Court House. (2.) Larry Smith giving opening remarks. (3.) Judge Ling delivering an address. (4.) Pastor Wickens recalling the first religious service conducted by Reverend Barton to the troops building Fort Bedford in July 1758. (5.) 'Frontiersman' William Mock standing guard over the Anniversary Flame prior to it being lit.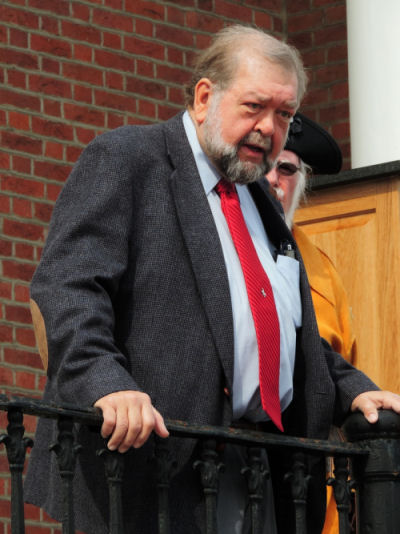 News Item ~ Update
Bedford County, Pennsylvania ~ Two and One-Half Centuries in the Making
The book recently published by the Bedford County Historical Society was printed in 300 copies. They have been selling well and we are pleased to announce that there are only about thirty copies remaining for sale. If you want to purchase a copy, but haven't yet, please do so before they're all gone.
9 March 2021 update: The book has sold out. The publisher (Bedford County Historical Society) is considering having another edition (softcover) published.
News Item
Anniversary Memorial Tree
On 15 December, a crew from Greenawalt's Nursery delivered and planted an English Oak tree which has become our Anniversary Memorial Tree. Greenawalt's Nursery of 1454 Lower Snake Spring Road donated the delivery and planting of the tree which Bob Way donated in memory and honor of his late wife, Alice Davis Way. The Anniversary Memorial Tree has been planted in the Old Presbyterian Cemetery in Bedford Borough. A formal dedication ceremony is scheduled to be held on 30 April (which is the U. S. Arbor Day).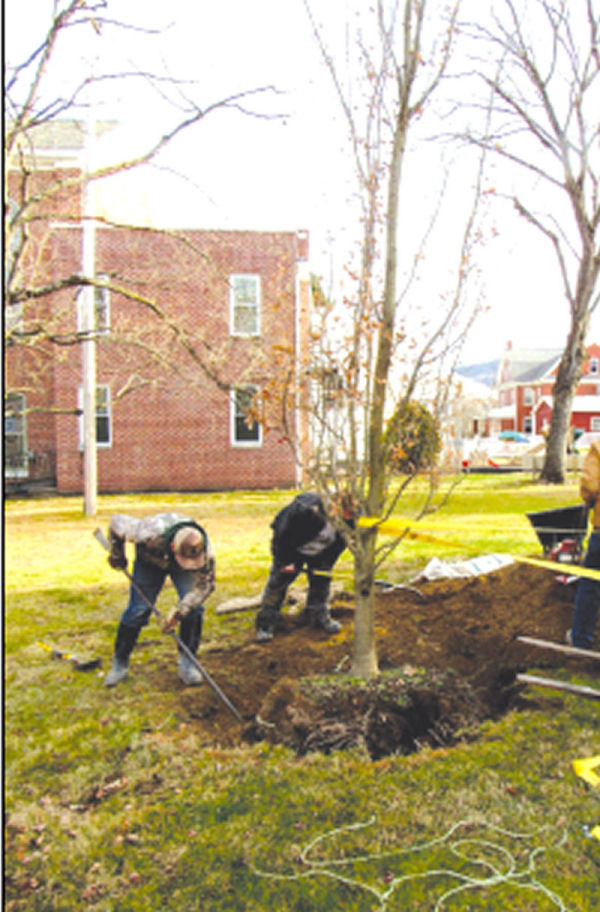 The photo above shows the Greenawalt Nursery crew, led by James Greenawalt, planting the English Oak tree.
News Item
Song Contest Announced
A contest is currently being held to create a song honoring the history and heritage of Bedford County. It is hoped that musicians throughout the county will be motivated to join in this contest and produce a song that will rejoice in and celebrate the proud heritage of Bedford County.
     The Guidelines and Entry Form (in pdf format) for the song contest can be accessed by clicking on this link.
The deadline for submissions is March 1, 2021.
For additional information email: contact@bedford250.com
UPDATE

The contest has already been judged and the winning song was Bedford County by Dawn and Levi Custer.
To listen to Bedford County's anthem, use this player:
News Item
Bedford County, Pennsylvania ~ Two and One-Half Centuries in the Making
A book devoted to the history of the entire County of Bedford, Pennsylvania is nearly ready for publication by the Bedford County Historical Society. Copies (to be presented in sets of two bound volumes) will be available for distribution prior to Christmas, 2020.
The book consisting of over 1,000 pages is the first history of the entire county to be published since 1906. But unlike the 1906 volume by E. Howard Blackburn, which was basically a reprint of the 1884 volume published by Waterman, Watkins & Company, this new history is comprised of fully footnoted original text. Maps detailing the evolution of the county's townships were created specifically for the book.
Much of the text for this website comes from the book. Check out the Gallery section.
Bedford County, Pennsylvania ~ Two and One-Half Centuries in the Making will be sold at the price of $120/non-member ~or~ $115/member (plus $6.90 sales tax if you are a resident of Pennsylvania). If you pick up your copy at the Bedford County Historical Society at 6441 Lincoln Highway there will be no additional cost for shipping. If you need to have it delivered to you by the U.S. Postal Service, an additional $8 (media rate) will need to be added.
Pre-publication orders can be made by postal mail request (check or money order included); by personally visiting the BCHS at 6441 Lincoln Highway, Bedford, PA 15522, by email or online at bedfordpahistory.com
News Item
Lapel Pin
Be on the lookout for lapel pins with the Sestercentennial logo design as it would appear as a challenge coin. We plan to ask businesses throughout the county to give some sort of discount or token gift to customers who are wearing the lapel pin. Whether that will happen is not confirmed at this time, but the lapel pins will still be something nice to wear to show your pride in Bedford County.
Below is what the lapel pins will look like.
News Item
Video Tour of Bedford County
Mike Knapp, of Szanca Solutions, is working with a group of their employees at producing a video tour of Bedford County to be available during the Sestercentennial celebration. Using a drone camera, the video tour will identify sites throughout the county that exemplify the variety of the regions that make up the county.